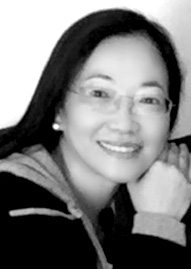 From establishing CrocoKids, Chickeeduck, Kingkow, and now Momonittu, Miss King Yeung is the frontrunner of kidswear in Hong Kong. With over 35 years of experience in the industry, she has been consistently passionate about childrenswear and its design. She takes pride in putting her customers first, and puts her years of experience in striking that perfect balance between creativity and functionality, beauty and comfort. Miss King Yeung has the natural ability to bring her visions to life, through the complex process of choosing the right colours, fabrics and materials, and finally create works of art.
As a businesswoman and full time mother of two semi-retired figure skaters, she is acutely aware of the needs of young kids as well as their parents. She anticipates the wear-and-tear that children's clothes are subjected to and thus stress on the importance of fabric quality and durability. Aside from her travels across Europe and Asia, she has also been able to seek inspiration from the eyes of her children.
Outside of fashion, Miss King Yeung is an avid sportswoman and always searches for new activities to partake in. When she began ice skating more than 20 years ago, it was no doubt that her passion for it infected her two children. Hence, they have been figure skating since the age of 4 and have participated in over 40 domestic and international competitions and numerous exhibitions. Through this experience, she has noticed that not only did her children developed grace under pressure, but also the important qualities of self-motivation, consistency, and diligence. Thus, she firmly believes in the character building opportunities of ice skating in a child's mental and physical development. She is thrilled to be invited as a judge in this competition.
Website: https://www.facebook.com/momonittu/